Click above for the latest weather information from Cleveland's Weathernet 5

Search our site
Contents
ARES Information


Calendar of Events


Current News


Net Information

Projects Page


Public Service


Repeater News


Skywarn


Training
ARES Coordinators
Served Agencies
Training News
The new Introduction to Emergency Communications course includes updated content from the previous Basic Emergency Communications Level 1 course, as well as some content previously included in the former Level 2 course. The EmComm training program has been restructured to offer two courses: This enhanced basic course for EmComm volunteers who want to serve as part of an ARES® response team and the management course -- Public Service and Emergency Communication Management for Radio Amateurs (EC-016, also available on the ARRL website) -- for those who are serving in ARES® leadership and management roles.
Click Here for Complete Details...

To learn more, visit the CCE Course Listing page or contact the Continuing Education Program Coordinator.
Check out our Training Page for Additional Information on Training Opportunities !
(Jun 21, 2011) -- The National Weather Service (NWS) has updated its Memorandum of Understanding (MoU) with the ARRL (scroll below to access a link to the document). The updated MoU serves "as a framework within which volunteers of the ARRL may coordinate their services, facilities and equipment with the NWS in support of nationwide, state and local early weather warning and emergency communications function." In May, ARRL President Kay Craigie, N3KN, signed on behalf of the ARRL, and in June, NWS Office of Climate, Water and Weather Services' Director Dave Caldwell signed on behalf of the NWS. The ARRL and the NWS have had a formal working arrangement since 1986.
The NWS, in the MoU, acknowledges that Amateur Radio operators can be of valuable assistance in early severe weather warning and tornado spotting. Through its SKYWARN program, the NWS recognizes that Amateur Radio operators have assisted as communicators and weather spotters since the program began in the late 1960s. "In areas where tornadoes and other severe weather have been known to threaten, the NWS recruits volunteers and trains them in proper weather spotting procedures," the MoU states. "These dedicated citizens help keep their local community safe by conveying severe weather reports to their local NWS forecast office. SKYWARN spotters are integral to the success of our nation's severe weather warning system."
Click Here for the Complete Story....

**************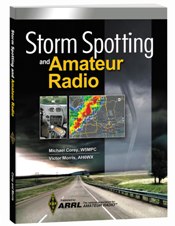 Storm Spotting and Amateur Radio is a resource for the Amateur Radio operator who volunteers as a trained storm spotter. This book includes information on resources, training, equipment, safety, storm spotter activation procedures, reportable weather criteria, developing a local storm spotter manual, and the experiences of storm spotters from around the country. It also provides some meteorological information about severe weather such as hurricanes, tornadoes, hail, floods, damaging wind, and winter weather.
A comprehensive index is included with weather-related web sites and a state-by-state listing of SKYWARN® web sites.
This new publication is available from the ARRL Bookstore for $22.95.
************
Gary Garnet with the Cleveland NWS handed out a Spotter Reference Sheet during the Spotter Training meeting. Supplies were limited and were gone before everyone got a copy. He recently provided us a copy in Pdf form that has been added to our website.
Click Here to download a copy!
***********
Severe Storms Rock Stark County during Summer 2007.
Click Here for a review of the 2006 severe weather season from Cleveland NWS.
Stark County Skywarn Spotter Statistics.
Damage Assessments Report over 268 Million in damage to 60 Ohio Counties during February Flooding. Stark ARES Assists Ohio EMA.
**************
Emergency Preparedness Guideline
An excellent full color booklet titled "Basic Spotters' Field Guide" is also currently available from the National Weather Service On-line library of Publications. CLICK HERE for a listing of their currently available information guides.
****************
Other News
NOAA Weather Alert Comes to Ham Radio.
Severe Weather Paging Notification Comes To An End.
***************
Weekly Weather Fact
The National Weather Service is second only to the Postal Service among government agencies in day-to-day contact with U.S. citizens. And the public seems pleased with what it gets. The NWS's approval rating has jumped to 70%, up from 51% in 1948. Those saying that it was doing a poor job fell from 15% to a mere 7%. These numbers would please many a politician.
Amateur Radio
Supporting Homeland Security
"Amateur Radio - The only fail-safe method of communication."

Riley Hollingsworth
FCC Special Council
Retired
------------------
"Amateur Radio - The Last Line of Defense"
Craig Fugate, FEMA Administrator
Click on the link above to get a birds eye view from the repeater site !
---
ARES Forum at Hamvention
Terry Russ, N8ATZ - Stark Co EC
(May 10, 2015) - - This coming weekend, May 15 - 17 is the annual Dayton Hamvention, the largest gathering of Amateur Radio Operators in North America. Along with a great fleamarket filled with over 500 table vendors, there will be numerous indoor new equipment displays and manufacturer's representatives to talk to. Also the now annual ARRL Expo. There are lots of forums available covering a wide range of topics. If you are planning on staying until Sunday, try attending the ARES forum. It will be located in Room 1 and runs from 9:15 until 10:30 AM.
Moderator will be Ohio Section Emergency Coordinator Stan Broadway, N8BHL. The forum will include a report on various ARES activations this year and discussions on how ARES organizations can improve their relationships with our many served agencies.
My schedule will prohibit me from attending on Sunday this year, if any Stark County ARES members make the meeting, please let me know how it went.
---
New System Fusion Repeater "On-Line"
Terry Russ, N8ATZ - Stark Co EC
After over 30 years of faithful community service, on Thursday, April 23rd Stark Co ARES installed the new Yaesu System Fusion Digital Repeater replacing our old GE Master II repeater and the ACC RC-850 Controller.
The new system is currently running at 20 watts output while we make running adjustments to various aspects of repeater operation. The few tests we have run so far would indicate excellent receiver performance with transmit range equal or better that the GE System. Please note that the new system runs full time PL. It will now be necessary for you to set your radio's transmit a PL Encode tone of 110.9 Hz. This should help with dependable operation during band openings and other interference. The system is housed is our existing cabinet. A picture of show below.
One new aspect of this system that users will discover is that it has no hang time or reset courtesy tone. Another change is it has no voice, all ID functions will be made in CW only. This is a no Bells or Whistles unit. Also we regret that for now, we have suspended the replay of Amateur Radio Newsline. We are looking into ways to restore this feature in the future.
The new system will be a big change from our GE unit, in that we now have a state of the art repeater. While the new unit supports the C4FM Digital Voice Technology, it has been set to operate traditional analog FM made.
With the installation of this new technology the repeater will primarily serve the ARES for our public service activities and support our Skywarn operations.
Feel free to contact us to express your thoughts and concerns on the new system.
Thanks for your continued support of Stark County ARES.
Terry, N8ATZ - Stark County EC.
System Fusion in Cabinet
Emergency Telecommunications Guide Available Online
Courtesy of the ARRL
(Mar 13, 2015) - -
The International Amateur Radio Union (IARU)
Emergency Telecommunications Guide
is now available for
download
from the IARU website. The guide was developed to provide the IARU member-societies with materials suitable for training radio amateurs to participate in emergencies. It also was designed to provide guidance to individual Amateur Radio operators with little or no experience in handling emergency communications but desire to enhance their ability to participate in such events or to simply have a better understanding of the process. The IARU Administrative Council meeting approved the
Guide
at its 2014 meeting.
"IARU member-societies are encouraged to distribute this guide among its membership and, if necessary, to provide a translation into a language used within their own country," an IARU media release said. "This guide can also be used in conjunction with other training materials by leaders within the emergency communication community to train radio operators in the basic theory and practice of handling emergency communications traffic."
The IARU International Secretariat has invited feedback, comments, or suggestions regarding the Guide.
---
ARES Activation
Terry Russ, N8ATZ - Stark Co EC
(Jan 19, 2015) - - Stark County ARES was activated the evening of January 13th when a telephone outage caused by an equipment failure in a Summit County AT&T switching station caused multiple equipment failures throughout the area. Here in Stark County local emergency service phone line failure resulted in an emergency declaration and the Stark County EMA office was activated.
EMA Director Tim Warstler requested ARES activation to provide communications and logistics support to his office. ARES member David Beltz was first to respond to the office at 9:00 PM only to find that our equipment had been temporarily removed as building renovation was in process. Dave contacted EC Terry Russ to respond as well. Our portable equipment kit was brought to the EOC to establish communications. Antennas had also been removed and thanks to support from local radio station WHBC and their remote truck, station engineer Dale Lamm, NX8J, we were able to setup a temporary antenna. This completed we established a net on our ARES Repeater.
During net operations, we made contact with the multiple EMA offices affected by the phone outage. We were also in contact with the Ohio EMA office in Columbus. During the next four hours we helped maintain communications links with multiple offices and public safety forces as well as staff the MARCS Statewide Radio System. The Massillon ARC offered the use of their Communications Trailer in case support equipment was needed.
Stark County Sheriff George Maier and EMA Director Tim Warstler were thankful for area amateurs quick response to this short communications emergency. Full phone service was restored and by approximately 1:30 AM we closed down the emergency net and operations from the EOC.
Click Here to read the ARRL recap of the comm emergency.
County EC Terry, N8ATZ operates using our Go-Box from the radio room.
(Photo courtesy of Dale Lamm, NX8J)
---
Repeater Update
Terry Russ, N8ATZ - Stark Co EC
(Jan 3, 2015) - - Since about 1980, Mercy Medical Center has been the home of the Stark County Amateur Radio Emergency Services 147.12 MHz two meter repeater and has served the county faithfully during that entire time. It's primary mission is to support our ARES program and the many served agencies we support including Stark County EMA, Red Cross and the many public safety departments and events we assist with each year.
During that time the repeater has been extremely reliable requiring only minor repair and tune-up. The basic RF equipment is based on General Electric Master II commercial grade transmitter and receiver. The controller is the ACC RC-850 series repeater controller, state of the art at the time.
Since it's construction over 30 years ago it has performed well, a remarkable achievement. The last several years however, both the repeater and controller have showed their age. While the controller is still working, numerous features are slowly failing. The controller was based on now obsolete technology and parts and service are no longer readily available.
In order to maintain the high standard of service and reliability our members and served agencies have come to depend on, the time has come to consider upgrading our system. Several months ago, I was made aware of a new self contained state of the art repeater and control system recently introduced by Yeasu Communications. It is called the DR-1X Digital Repeater System. The unit supports both current analog communications and new digital technology that has been used in commercial services for many years.
Thanks to a current promotional program, Stark County ARES is eligible to participate in this program and can obtain this system for a substantially discounted price. While this new system would be a great benefit to our ARES program, there are a few features that as yet are not supported. The main limitation is that the system has no voice capability, all announcements are in CW only. While not a large issue, it would mean we could no longer have the ability of providing our weekly Newsline Report during our Tuesday net. This might be possible using an external control means, not yet available on this unit. We know new enhancements are on the drawing board.
We would like to hear your comments and feedback regarding our proposed equipment upgrade plan. Feel free to email me with your comments. If you would like to hear this system in actual use, one is operating on the Massillon ARC's 147.18 MHz club repeater.
The loss of our existing repeater system would be a great hardship to our area and our ability to continue to provide effective public service support communications.
Thank You for supporting Stark County ARES.
Terry Russ, N8ATZ County EC.
---
"Go-Box" Version 2.0
Terry Russ, N8ATZ - Stark Co EC
(Dec 27, 2014) - - While I was very satisfied with my latest Equipment or Go-Box based on the Gator 8U Rack Mount Case, it did have several limitations. On my latest design, I tried to correct these limitations and come up with a more useful Field Box. The full report including several pictures is posted on the Projects Page. Have a look at it and let me know what you think.
---
ARES Safety Vests
Terry Russ, N8ATZ - Stark Co EC
(Nov 25, 2014) - - Many times during public service drills and exercises, amateurs may find themselves shadowing event organizers or exposed to highway traffic hazards. This is especially true during bike-a-thons and marathons.
The safety of our communications volunteers is always important while we provide our service. One way to help increase our visibility is to wear a safety vest. These vests come in a variety of styles and price ranges. While there is no specific ARES Standard here in Stark County a good basic standard is a yellow class 2 safety vest.
The ARRL style comes in yellow and is Class 2 compliant. The cost is $24.95 and ranges in size from Medium to 3X-Large. A nice feature is that it is imprinted with the words "Amateur Radio Emergency Communications" on the back side. It has several pockets and uses a velco strip along the front.
During the Massillon Hamfest ARES member Ted Armstrong showed us a very nice heavy duty Class 2 vest from M. L. Kishigo, a company known for producing superior quality hi-visibility garments. This design, also in safety yellow, is a zippered closure with webbing reinforcement. It comes with 2 lower outside cargo pockets with adjustable flaps. It also has one right chest 2-Tier pencil pocket, one left chest heavy duty gusseted radio pocket perfect to hold your hand held. The price is only $19.95 plus shipping. This model does not come with any lettering but there are several local vendors where you can have this done.
The manufacturer also offers additional items including Arm Band ID Holders and multiple styles of reflective safety hats.
Their website is http://www.hi-vizsafetywear.com/safety-vests/MK-1513-14.html.
While it is not necessary to have a safety vest to participate in Stark Co ARES, they can be a nice addition to your equipment too kit !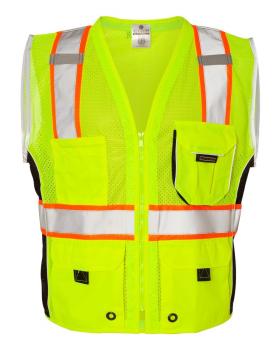 The M. L. Kishigo style Safety Vest.
---
ARES Readiness Update
Terry Russ, N8ATZ - Stark Co EC
(Oct 18, 2014) - - Massillon City officials have initiated an incident command system (ICS) as a precautionary measure in the event of a local emergency relating to Ebola. ICS is a military-style command structure used to coordinate response to emergencies and has been part of the Stark County ARES training for many years.
Massillon City Health Commissioner Terri Argent noted that the agency is ramping up and maintaining communications daily with city safety forces in order to be able to respond quickly if an emergency occurs.
City Safety-Service Director Al Hennon, Fire Chief Tom Burgasser and Argent meet daily to discuss the status of this issue and how it might relate to the city. The Canton City Health Department has also implemented a similar response system in the event of an emergency.
Stark County ARES maintains communications with our County EMA office and would be ready if called upon to provide support communications to area hospitals, health departments and the EOC if needed.
---
The Equipment Box Primer
Terry Russ, N8ATZ - Emergency Coordinator
(Feb 2, 2014) - - An equipment or "Go-Box" is quickly becoming an essential part of every radio amateur involved in public service communications. More and more, amateurs are being tasked to quick deploy to everything from local public service drills to disaster scenes.
Equipment Boxes have been showcased at several Ohio Section ARES meetings and I have posted several of my designs on this website the past year. I have received a few emails asking for more information on the topic and have added some additional information on the Projects Page of this website. Additional pictures of several of my own designs are included as well as a link to many shown during the past Ohio Section ARES meetings.
If any of you have built your own versions we would be happy to include them on the page. Send me a short recap of your design with pictures if you have them and I will post them.
A portable Go-Box can be a great project and very useful when you need additional capability during an ARES event.
Click Here for a direct link to our Project Page.
---
Don Wade, W8DEA receives Public Service Award
Terry Russ, N8ATZ - Emergency Coordinator
(Jan 20, 2014) - - The Massillon Amateur Radio Club recognized club member Don Wade, W8DEA with their annual Public Service Award for 2013 during their annual Awards Banquet on Saturday, January 11th. Don is also part of Stark Co ARES as an Assistant EC in charge of our training program.
A past recipient of this award, Don again demonstrated his commitment to our community and the Amateur Radio Service during 2013 on assignment throughout the country with FEMA working in the aftermath of several major disasters providing support to victims at relief centers. Once this mission was finished, often requiring several months or more away from home, Don returned to Stark County to resume serving his club and the ARES.
Congratulations to Don for this well deserved recognition !
MARC President Mike Sciarini, WA8MKH presents Don (R) with his Public Service Award.
---
ARRL ARES E-Letter Posted
Terry Russ, N8ATZ - Emergency Coordinator
(Apr 15, 2015) -- The April 15, 2015 edition of The ARES E-Letter is currently posted and includes the following highlights; News Digest TEMA AuxComm Exercise at End of Month Hurricane Season 2015: D-STAR Hurricane Net a Resource Hurricane Season 2015: Governor's Hurricane Conference Next Month in Orlando Hurricane Season 2015: Florida Statewide Hurricane Exercise Next Month Write Now: HR-1301 Has Special Significance for Emergency/Disaster Operators ARES Participates in Indiana Health Care Department Exercise Broadband-Hamnet Issues New Release of Firmware for Linksys and Ubiquiti Letters: On-Line Training Courses Compendium You can read the entire newsletter on the ARRL website. Click Here for a direct link.
---
---
Amateur Radio Continues to Provide Reliable Post-Quake Communications in Nepal
Courtesy of the ARRL
(May 5, 2015) - - Amateur Radio has continued to provide reliable communication in the aftermath of the devastating April 25 7.8 magnitude earthquake that struck an area in and around the capital of Kathmandu. The disaster has so far claimed more than 7300 lives.
Amateur Radio's role has been to provide communication for responders working in more remote regions as well as to help in locating missing people. It also has served to convey information about casualties. Jayu Bhide, VU2JAU, the Amateur Radio Society of India (ARSI) National Coordinator for Disaster Communication, said this week that rescue teams moved into highly devastated areas such as Pokhara and Sindupalchowk, where their work was hampered by rain and blocked roads. "Teams are unable to reach the remotest villages," he said. "The roads are cut off, and no communication is possible."
While Nepal's cell telephone infrastructure has been functional, the batteries in most mobile telephones have discharged. On his own initiative, Bhide was able to secure funds from the Lions Club in Gwalior, where he lives, to buy 500 mobile chargers. "These will be shipped to Nepal soon," he said.
No Nepali stations were on the air for all of May 4, Bhide reported. "Everyone was waiting to get some updates, but no one was there," he said. Satish Kharel, 9N1AA, who has been prominent among the hams in Nepal involved with the earthquake response, and Bhide now are maintaining contact every 2 hours.
Nepal has only about 2 dozen Amateur Radio licensees, according to Suresh Ojha, W6KTM, chairman of the CAN-USA Disaster Preparedness Committee. He said the Nepal government's lack of experience in regulating ham radio has hampered response efforts. Nepali authorities last week arranged for hams from other countries to obtain 9N3-prefix call signs to assist in the earthquake relief effort, and several hams from India are in Nepal.
---
Amateur Radio Volunteers Activate Emergency Nets Following Chile Volcano Eruption
Courtesy of the ARRL
(Apr 24, 2015) - -
Southern Chile's Calbuco volcano erupted this week for the first time in more than 40 years, forcing the evacuation of an area of some 12 miles around the volcano. Approximately 5000 residents have been relocated, and ash has been reported from as far away as Argentina.
"Nature strikes our Chilean brothers one more time," said International Amateur Radio Union Region 2 news editor Joaquín Solana, XE1R. IARU Region 2 reports that emergency nets are in operation on 7050 kHz, 14,250 kHz (alternate), and 3,738 kHz (alternate), and requests that other users keep those frequencies clear for emergency traffic.
According to Chile's National Mining and Geology Service, the column of ash measures nearly 7 miles. The agency said volcanic activity was diminishing but that the state of emergency remains for the affected region.
NPR quoted correspondent Lourdes Garcia-Navarro, who reported that local officials are saying people are very frightened. "The immediate concern is the volcano's eruption could trigger snow melts and cause flooding," she said.
According to NPR, the volcanic activity "seems to have caught Chile's geologists by surprise." No injuries have been reported so far.
---
Amateur Radio in Play in Aftermath of Nepal Earthquake
Courtesy of the ARRL
(Apr 24, 2015) - -
At least one HF net is reported to be handling emergency and relief-related traffic in the wake of a devastating and deadly earthquake in Central Nepal. The magnitude 7.9 quake on April 25 caused landslides on Mount Everest during the climbing season, killing an unknown number of mountaineers and stranding others. A strong aftershock hit April 26. So far, some 2200 people are reported dead. The earthquake hit an area between the capital city of Kathmandu and the city of Pokhara. An emergency net has been running around the clock on 20 meters (14.205 and/or 14.215 MHz), with Jayu Bhide, VU2JAU/AT150ITU, as net control station and other stations in India participating). The net has been attempting to organize relief logistics. Amateur Radio DX.com also has reported activity on 7.100, 18.160 and 21.360 MHz.
Running just 25 W from solar power, Satish Kharel, 9N1AA, was reported to be coordinating his activity with Nepal police and sharing duty with Suresh Upreti, 9N1HA. Both are in Kathmandu. Amir Bazak, 4X6TT, in Israel joined the net and helped to keep the frequency clear. "Our stations are working with no break," said Bhide, who is Amateur Radio Society of India (ARSI) National Coordinator for Disaster Communication.
Nepal's first Amateur Radio repeater, set up in 2012 by the National Society for Earthquake Technology (NSET), and at least a dozen ham in various locations were reported on VHF. The 9N1KS repeater (434.500 MHz in/145.000 MHz out) is on the NSET headquarters building on the outskirts of Kathmandu. A drill conducted in 2012 indicated good coverage of the Kathmandu Valley.
The US chapter of the Computer Association of Nepal provided technical and financial assistance for the repeater and supplied equipment to use it. The repeater has a battery back-up power source.
The NGO "Humanity Road" is maintaining an updated summary of damage as well as immediate needs.
---
Amateur Radio Weather Spotters Help Track Severe Weather in North-Central Illinois
Courtesy of the ARRL
(Apr 10, 2015) - -
Amateur Radio weather spotters were on alert April 9 as severe weather and at least two tornadoes ripped through North-Central Illinois. At least one person died in DeKalb County, and at least seven others were injured. A tornado watch was in effect for parts of three states as severe thunderstorms move through the region ahead of an advancing cold front.
"The storms that affected North-Central Illinois yesterday were unheard of for our area," said ARRL Illinois Section Manager Tom Ciciora, KA9QPN, noting that the stricken communities are just north of where he lives. "At this time, one person is dead, many are injured, and even more are homeless. At least one small community was completely leveled, and damage exists from Ogle County northwest into Lake County. Read More...
Oklahoma Amateur Radio Volunteers Activate
Courtesy of the ARRL
(Mar 26, 2015) - -
Amateur Radio SKYWARN volunteers in Oklahoma went on alert March 25 as severe thunderstorms sparked tornadoes. The Southwest Independent Repeater Association (
SWIRA
) and Tulsa Region
SKYWARN
nets were active in support of tornado warnings in both the Oklahoma City and Tulsa Metropolitan areas. No Amateur Radio Emergency Service (ARES) activation was required, however.
"March 25 was a busy afternoon and evening in Oklahoma," ARRL Oklahoma Section Manager Lloyd Colston, KC5FM, told ARRL.
Oklahoma Section Emergency Coordinator Mark Conklin, N7XYO, said that ARES-OK Tulsa Region was put on standby. "No communication support was requested by served agencies," he said. "Other than some local cell service overload, normal communications were up and working." Read More...
---
Monitor the 147.12 Mhz Repeater for Severe Weather information here in Stark County !
---
Our thanks to Mercy Medical Center for their commitment to the Stark County Amateur Radio Emergency Service and First Communications for their support of Stark County Winlink.
Total Visitors To Our Site


Counter courtesy of WEB Counters
This site is best viewed at 800 x 600 resolution using Internet Explorer
The Stark County Amateur Radio Emergency Service
Canton, Ohio 44701
ARES®, Amateur Radio Emergency Service and the ARES logo are registered trademarks of the American Radio Relay League, Incorporated and are used by permission.

Welcome to the new Stark County ARES Website. The Amateur Radio Emergency Service (ARES) consists of licensed Amateur Radio operators who have voluntarily registered their qualifications and equipment for communications duty in the public interest when disaster strikes.


Our Mission

The Stark County ARES has always been dedicated to the completion of three goals. One, to provide the citizens of Stark County and local Public Service officials with a team of highly skilled and dedicated radio operators ready to assist when needed. Two, to provide Stark County amateurs with a full featured, reliable wide area coverage ARES Repeater. And three, to provide an information service for both amateurs and the community.

With the redesign of this website, we hope we have accomplished this mission. We welcome your comments.


ARES News

May News
A new ARES On-Line Registration form is being tested on the website. Using this form you can complete a new or update your existing ARES Volunteer Registration Status.
****************
2015 Stark Co ARES meeting schedule will be posted when dates are set.
Meetings will be on Thursday Evenings at the Stark County EOC Office beginning at 7:00 PM.
Stark Co ARES Repeater is on 147.12+, PL 110.9
County Winlink RMS Packet Relay is on 145.07 Simplex. Callsigns are N8ATZ-10 (Eastern Stark Node) and WA8GXM-10 (Western Stark Node).
**********
Ohio Section ARES News is available on the Ohio ARES Website. Click Here to read the latest Section News.
************
Click Here to see some simple ARES portable antenna mounts you can use during local public service drills and events.
Review Current Activities in the Stark County Winlink Initiative.
************
Powerpoleing Your Power Connections
The ARRL recently reviewed a new website that does a great job of describing the Anderson Powerpole connectors. The site describes the connectors in detail and provides tips on assembling and using them on your equipment.
For higher power rigs and DC power supplies, the Anderson Powerpole is the emerging National ARES/RACES standard.
The site also contains links for additional Amateur Radio Emergency Communications ideas, a portable EC station and a Quick Response Team Go Kit. This site has lots of useful ARES information, well beyond the powerpole ideas.
*************
New Emergency Communications Handbook
The ARRL announces a new emergency communications handbook for all hams that volunteer their skills in public service applications. The handbook includes details on basic emergency communications skills, message handling, and much more. This reference will help you to understand the public service role amateurs will play and what to take along.
The Handbook is 176 pages and costs $ 19.95 plus shipping from the ARRL and other dealers.


(Mar 26, 2006) -- The ARRL has introduced a new Emergency Communications Catalog containing a host of items using the "When All Else Fails" theme. The items are a great reminder that Amateur Radio provides immediate, high-quality communications that work every time, when all else fails.
The items include T-Shirts, Pins, Stickers, Patches, Magnetic Signs, Banners, a Coffee Mug and Key Chain all carrying the "When All Else Fails" theme. Click Here to visit the catalog.
****************
Click Here to download a current ARES Registration Form. Help us keep your record current !
Anderson Power Pole Connectors, the defacto standard for ARES power connections.
*************
Other News
Amateur's Support COOL Project...
2010 HOF Festival Timken Grand Parade....
2010 HOF Festival Community Parade Report..
Alliance ARC Take Part in Drill.
Stark ARES Attends District Meeting.
Stark ARES & MARC Assist With 2009 Annual MS Walk.
MARC Assists With Massillon Holiday Parade.
Hurricane Ike's Winds Hit Stark County.
Stark ARES Assists With Akron Marathon.
ARES Teams Activated for Northwest Near Record Flooding.
MARC Assists With Annual MS Walk.
ARRL Board Accepts NERPC Report.
Airmail Station Completed at Mercy Medical Center.
Stark County ARES Part of OEHA Fall Conference.
Remember the Ohio ARES Net every Sunday at 5:00 PM on 3875 Mhz !

Click above for official ARES Logo merchandise from the ARRL.
The Official Stark County ARES Name Badge Supplier. Click on the logo for details.
The Stark County ARES is a proud supporter of the Annual Pro Football Hall of Fame Enshrinement Festival providing communications support for over 25 years !
***********
Stark County EMA is now on Facebook. They will use the new social media site to provide ongoing public information about disaster related issues in the county.
Please Like and share with your friends !
Look for them by going to "starkcountyema" on facebook.
**************